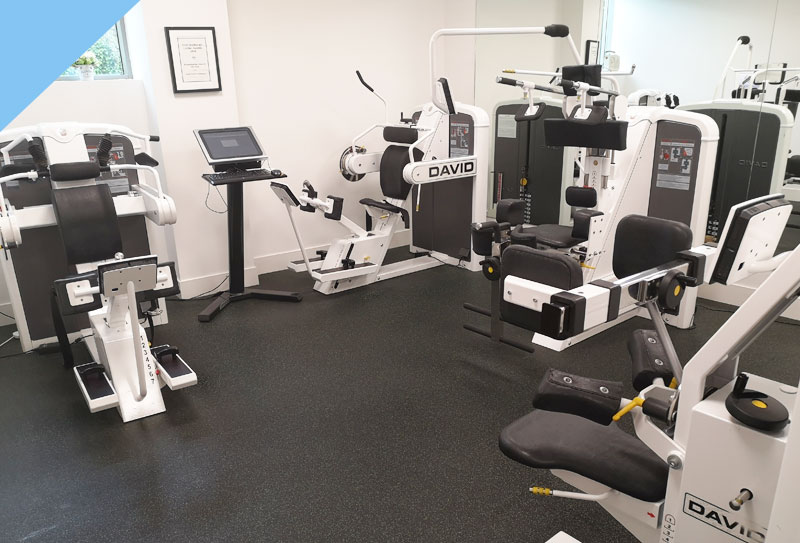 The DAVID spinal diagnostic & training system
The DAVID spinal system is utilises patented technology which serves as a diagnostic and rehabilitative system. The technology uses intelligent adaptive software that connects to a centralised database against which we can measure our patient baselines and progressions against the general population.
The system uses a digital interface to offer real-time feedback on spinal movement quality, muscle control and force output. We can digitally assess how well a spine moves, as well as the amount of force the trunk can generate across the six planes of motion.
Such precision in assessment allows for the safest and most accurate planning of treatment programmes for each spine. The aim is to gradually expose the spine to increasing degrees of movement with increasing intensity, whilst doing so in a safe and controlled manner. Whether suffering from an episode of acute back pain, recurrent back pain or longstanding chronic or persistent pain, this system can be tailored for each spine.
Our expert specialist spinal physiotherapists will progress your treatment plan in combination with other rehabilitation protocols (such as floor exercises, gym exercises, and some home exercises to supplement).
Contact Us with
your Query
If you have a query regarding any of our services, please don't hesitate to get in touch using the contact form below. We look forward to hearing from you.
Details of how we store your information can be found in our privacy policy
Make an appointment with Medfit today!