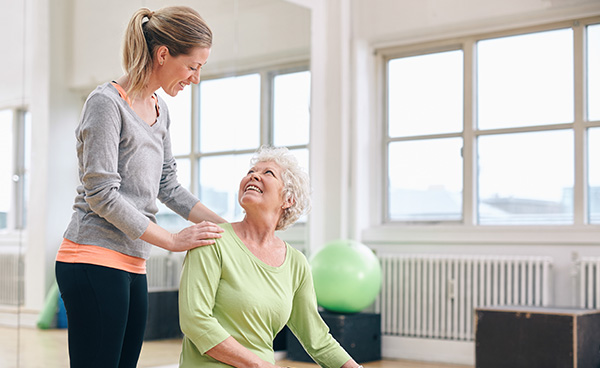 Medfit's 6 week rehabilitation program is a fully supervised one to one program. The program is run by our team of Exercise Physiologist's, Each program is completely tailored to the individuals needs and the general focus is on exercise therapy and education. In this way, you can better understand your injury/ medical condition so that you can start to self-manage in the future.
The Exercise Rehabilitation Program can be  designed & tailored individually for clients who may have one or more of the following conditions:
o Cardiovascular Disease
o Oncology – Pre/during/post treatment
o Injury – Minor or traumatic
o Balance Issues
o Pulmonary Conditions
o Neurological Conditions
o Chronic Pain
o Long Covid
o Orthopeadic Conditions
o Osteoporosis/Osteopenia
o Autoimmune Disease
o Metabolic Disease
o Age Related Decline
This is a tailored exercise program to suit your needs with the aim to improve your cardiovascular health, Increase strength and improve general health & overall quality of life. Following on from your Wellness Check – your extensive baseline assessment, your program will be individually supervised and progressed in a safe manner.
Included in this program is:
6 Week Program
– 2 x 30 min supervised 1 to 1 session per week for 6 weeks Cost: €700
– 2 x 45 min supervised 1 to 1 session per week for 6 weeks Cost: €870
– 3 x 30 min supervised 1 to 1 session per week for 6 weeks Cost: €1,000
Medfit's Exercise Rehabilitation Program may be covered within the below VHI Health Plus Policies. In each 24-month period a pay and claim back of €500 / €250. VHI Policies:
Health Access
Health Plus Access
Health Plus Extra
Health Plus Choice
Health Plus Excess
Health Plus Platinum
Health Plus Premium
Contact Us with
your Query
If you have a query regarding any of our services, please don't hesitate to get in touch using the contact form below. We look forward to hearing from you.
Details of how we store your information can be found in our privacy policy